By Dr. Chris Gubbels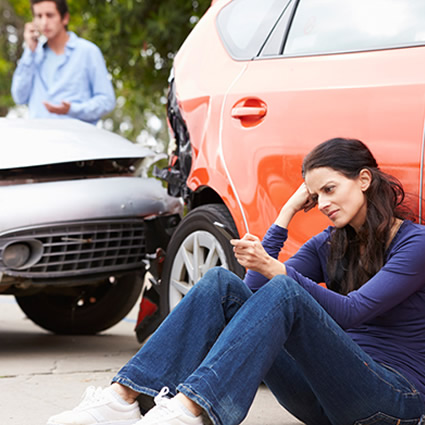 Chronic neck pain is one of the most frequent conditions treated by chiropractic physicians. Given the unique make-up of the neck region, it's not difficult to understand why.
The neck region is one of the most vulnerable areas of the body. While many events can cause injury to this area, some of the most common injuries are falls, sudden motions caused by sports and exercise activities, and car accidents. Of these, the most common is being injured in a car crash.[1]
The Connection Between Whiplash and Chronic Neck Pain
One study of note highlights the connection between chronic neck pain and car crashes. The study, Chronic neck pain and whiplash: A case-control study of the relationship between acute whiplash injuries and chronic neck pain,[2] looked at patients with chronic neck pain, with patients experiencing chronic back pain as the control.
The study concluded that injuries resulting from motor vehicle accidents contribute significantly to the population of patients with chronic spine pain in the United States[2]. Also, individuals with chronic pain in the neck and those with both chronic back and neck pain are more likely to have acquired their condition due to a motor vehicle accident compared to individuals with chronic back pain alone.
Based on the study results, Freeman et al. inferred that a significant portion of individuals suffering from chronic neck pain in the general population was originally injured in a motor vehicle accident.
Symptoms of Chronic Neck Pain
Injuries, inflammation, or stiffness can cause neck pain. Often, neck pain is accompanied by the following symptoms:
Signs and symptoms include:
Pain that's often worsened by holding your head in one place for long periods, such as when driving or working at a computer
Muscle tightness and spasms
Decreased range of motion
Headache [3]
If you've been involved in a car crash and experience any of these systems, you may be at increased risk of suffering chronic symptoms from long-term effects of a neck injury from whiplash.
See Your Chiropractor for Chronic Neck Pain
With over 80,000 car crashes involving neck injuries occurring annually, it's no surprise that many people suffering chronic neck pain can attribute it to a motor vehicle accident. The most common reasons for visiting a chiropractor included: neck pain, back pain, headaches, neck stiffness and radiating pain down the arm. One study found that 93% of patient that were dealing with chronic pain had positive outcome when seeking chiropractic care after other treatment methods had failed.[4] If you're experiencing the symptoms of chronic neck pain, contact your chiropractic physician.
About the author:
Chris Gubbels chiropractor Fort Collins owner of Square ONE Clinic in Fort Collins, Colorado. He has been published in The Journal of Physical Therapy Science and is a member of the International Chiropractic Association and the Society on Scoliosis Orthopedic and Rehabilitation Treatment. He has advanced certification in spine biomechanics, personal injury and scoliosis. He certified by the American Board of Independent Medical Examiners.
References
1) Healthline.com; Neck Pain: Possible Causes and How To Treat It, https://www.healthline.com/symptom/neck-pain; Oct 9, 2020
2,3 ) Michael D Freeman PhD DC MPH, Arthur C Croft DC MPH MS, Annette M Rossigno ScD, Christopher J Centeno MD, Whitney L Elkins MPH. Chronic neck pain and whiplash: A case-control study of the relationship between acute whiplash injuries and chronic neck pain. Pain Res Manage 2006; 2:79-83
3) Mayo Clinic; Neck Pain, https://www.mayoclinic.org/diseases-conditions/neck-pain/symptoms-causes/syc-20375581; Oct 9, 2020
4) Woodward, M.N., et al., Chiropractic treatment of chronic 'whiplash' injuries. Injury. 1996. 27(9):P. 643-5.