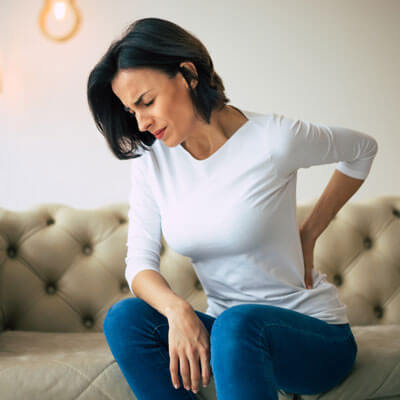 Perhaps you tweaked your back lifting furniture, woke up with low back pain or have sciatica symptoms during pregnancy. You also may have associated symptoms of tingling, numbness, leg cramps and balance problems.
Maybe you've tried everything including ice, heat, stretching, massage and OTC medication. You may already have been told by an orthopedist that you're a candidate for surgery but you'd rather avoid going under the knife.
As a chiropractor, Dr. Hicks is a natural back pain specialist who provides real relief versus masking symptoms with OCT medication or prescription painkillers. We have treated numerous patients with back pain and helped prevent countless patients from having to have surgery.
Many Techniques Available
Dr. Hicks provides an array of chiropractic techniques to address your back pain. These include Diversified and Chiropractic BioPhysics (CBP®). He will customize each one to not only relieve your pain but to find and correct the underlying issue causing your pain and other symptoms.
In addition to performing chiropractic adjustments, Dr. Hicks also can provide helpful exercises. He also can give advice on proper lifting techniques and how to set up your workstation in an ergonomically friendly manner.
Get Back to What You Love
Whether you want to hit the slopes but you're afraid of the aftermath or you can't play with your kids because of your back pain, we are here for you. By alleviating your pain you can return to all of your favorite activities in life.
If you're suffering from back pain, we want to help you heal and get your life back. Contact us today to schedule an appointment!