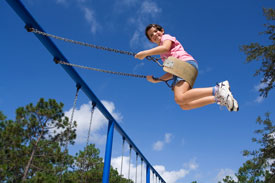 According to the National Program for Playground Safety's website, from 2001-2008, an average of more than 218,000 preschool and elementary-aged children received emergency department care for injuries that occurred on playground equipment.
While bumps and bruises are fairly common and usually not serious, if a child lands on their head or back, it's vital that they get checked out as soon as possible.
Concussions
As a concussion could result from a fall, you want to look out for any of the following symptoms:
Headaches
Dizziness
Confusion
Nausea
Vomiting
Ringing in the ears
Concentration difficulties
If your child is exhibiting any of these symptoms please take them to the nearest emergency department or to our office for an evaluation. Fortunately, most concussion symptoms resolve on their own within a few weeks.
Back Injuries
Your child's spine represents the vital framework of their body. It needs to stay strong and healthy. Any fall or other type of blow to the spine can cause a subluxation that needs to be addressed. We can provide safe and gentle chiropractic adjustments to reduce nervous system interference.
FAQ
Is chiropractic care safe for children?
Yes! In fact, chiropractic can be used on children of all ages, from hours-old newborns to grade schoolers and teens. Perhaps best of all, it is drug-free and noninvasive.
How much pressure is used to adjust a child's spine?
With babies, we apply about the same amount of pressure that's used to test a tomato for ripeness. For older kids we use light pressure (either manually or with an instrument) that effectively removes subluxations so children can experience optimal health.
Chiropractic care not only can address injuries but it also can help your child enjoy better overall health. If it's been a while since their last spinal check-up we encourage you to contact us today for an appointment!