Highlands Ranch Scoliosis Care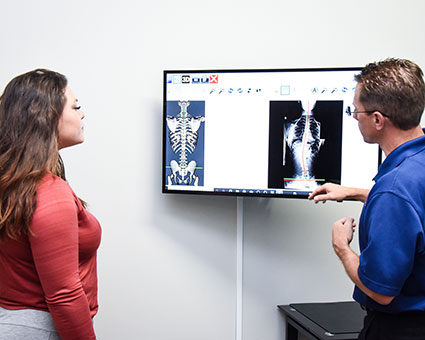 Scoliosis is a medical condition in which a person's spine has a sideways curve. To determine if someone has scoliosis, we look at the spine from the front to the back, where it should be straight. When looking at the spine from the side there are three distinct curves that should be present.  Performing a simple range of motion bending test we use a standard measurement method allowing us to determine the degree of scoliosis. Anything more than 10 degrees of lateral bending with rotations is defined as scoliosis.
Who Is Affected by Scoliosis?
Anyone! However, one of the most commonly discussed scoliosis is idiopathic scoliosis. Of which, there are three distinct categories defined by age. Infantile, juvenile and adolescent idiopathic scoliosis. Less discussed, but more prevalent, is de novo scoliosis, or degenerative scoliosis.
Kids and teens
About 5-12% of the population is thought to have scoliosis (all causes). Statistically speaking, girls are at higher risk of it. For Idiopathic scoliosis, the most common age of onset and progression is about 10 to 13, with onset of puberty around 11. Scoliosis can rapidly form around those time frames. Boys with scoliosis get it at a slightly older age of 13 to 15 or so.
Adults
Adult scoliosis, which is called de novo scoliosis, is usually the result of a degeneration. An adult with scoliosis may have had a version of undiagnosed mild scoliosis from childhood. According to an epidemiological study, the prevalence of adult scoliosis can be as high as 68% in people age 60 to 90 years old.
Adult onset scoliosis is something that will typically increase. It's often diagnosed in patients over 60 who had never seen it before or heard that they had it. In many cases, adult scoliosis is the result of arthritis. Regardless of your age, we can still help to address your scoliosis.
Did you know that scoliosis can run in families? So whether you have a grandmother, grandfather, aunt or uncle who has scoliosis, it's important for kids in particular to get checked. If scoliosis is detected early enough it can be slowed or even reversed.
What to Look for
To identify scoliosis, we look for various physical structures changes and postural changes. These include
Uneven shoulders
Rib humping
A high hip on one side or another side
The scapula will often stick backwards
Primary care doctors often will take a wait and treat approach with scoliosis, which can develop very rapidly in just a few months. A medical doctor, who detects any sort of small curves, seen either on an X-ray or another reason, may say, "Let's follow up in six months." We believe patients with scoliosis should be followed up much more frequently with somebody who knows what they're looking for.
Why? Because we've seen progression with patients in our practice. Dr. Hicks had a case earlier this year. "We have films from February and then I retook them in June and the curve almost tripled in that time range. It developed very, very fast," he said.
Because every person who comes in with scoliosis needs to be addressed uniquely, we don't have cookie-cutter care plans. We do have the following guidelines, however:
If the curvature is less than 15 degrees, a child will put in the observation category.
If the curvature ranges from 15 to 20 or 25 degrees, we will provide highly specific exercises. Bracing may be necessary.
We follow up with films and take measurements. As the curve increases so does treatment and need for customized care. We can measure the progression of skeletal growth and also use a Risser Sign, which is a radiographic indicator of skeletal maturity.
Depending on where the child is with Risser, and the measurement of the curve, their scoliosis may require more aggressive and different types of care such as bracing.

Scoliosis Care Highlands Ranch CO | Highlands Family Chiropractic | (303) 779-7933