Highlands Ranch Nutrition Services
Get Your Complementary
Biometric Evaluation and Nutrition Consultation
We are passionate about total body health. Everyone deserves to feel their best, and we can help you get there! When it comes to nourishing your body, one size doesn't fit all.
Our experienced and knowledgeable staff offer personalized weight loss and nutritional counseling, creating a program to fit your unique needs.
Our simple, natural approach will help you reach and maintain total body health through weekly coaching, lifestyle modifications, and education. Whether you are suffering from adverse health conditions or want to shed stubborn pounds, our program is for you. Let's take this journey together.
Call us today at (720) 531-4911
What Our Clients Are Saying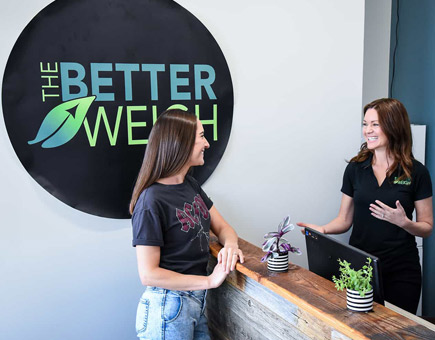 The Better Weigh is not just about weight loss. It's about eating what's best for you to help fix what ails you. I've been going there because I had abdominal surgery that has disrupted the digestion of my food and I was fearful of eating. Amy and Rae have been working with me to find foods that I can digest so I can have the nutrients I need to have the energy to live life fully. I highly recommend The Better Weigh!"
Stacey G. *Google Review
The Better Weigh has changed my life. I have lost over 100 lbs since starting the Ideal Protein program on January 1st of this year and I feel like a whole new person. Amy and Rae have been so supportive throughout the whole journey and as we are getting close to transitioning they continue to be there with me keeping me going and supporting me the whole way. I am never hungry and the food is wonderful and tasty. There is something for everyone. It is very easy to follow and you always have someone to contact if you have questions and I couldn't have made it without them! Thanks Amy and Rae!!"

Maggie C. *Google Review
I have been a client here for several months, and in that time have lost about 70lbs. Previously I tried exercise and dieting with minimal success. The coaching here is excellent, and my health is so much better! I would 100% recommend! She really takes the time to listen to your situation, and makes recommendations as needed for outside consultation with physicians. Excellent attitude, as well!"

Janine P. *Google Review
Amy and Rae have been great coaches since I started my journey to a healthier me in April. IP is such an easy program to follow. I am down over 60 pounds and have never felt better."

Kimberly H. *Google Review
Great staff! Wonderful way to lose weight naturally and effectively!"

Jennifer G. *Google Review
Weekly coaching is the real key for me. Amy is amazing and has brought me through struggles. Lost over 80 pounds and still losing! Love this place!"

Laura W. *Google Review
I am an athlete who works out every day. Yet, I still could not get rid of a small layer of fat in my midsection. How is it possible to have love handles being as active as I am? Why don't I have abs? I thought it was impossible until I met Amy. Since I started her program I have lost 12 lbs and 5.5 inches (all midsection) . Now, that may not be a ton of weight compared to some… but they were the stubborn pounds I just couldnt lose no matter how hard I trained and dieted! I feel like I am 21 again! Her program works! She is an awesome coach and always upbeat and passionate about helping others! Thank you Amy and team!"

Matt M. *Google Review
Love Amy and Rae and their program! The Ideal Protein products are delicious and the support Amy and Rae provided beats any other program. I am a lifetime WW member and the support I have experienced at The Better Weigh is miles above what I have received with any other weight loss program. Nothing can compare. Initially I worked one on one with Amy and she did everything she could to ensure I had the support and education I needed to succeed. I have lost 14.1 pounds, feel fabulous and envision that I will stay connected to The Better Weigh for life! Thanks Amy and Rae! You are the BEST!"

Susan M. *Google Review
Amy is absolutely amazing! I thought I knew a lot about caloric intake and paring workouts protein and vegetables. I have been active and healthy my whole life but these past two years I have been struggling with extreme weight loss then extreme weight gain and muscle loss. Other health issues that I saw a specialist for. Multiple doctors visit, blood tests and a specialist didn't seem to be working… Amy educated me on quality protein, macro nutrients, and is genuinely invested in my health. I am feeling better and seeing results! Amy is THE BEST!!! I am so happy to be on the journey of health and healing. I am beyond grateful to her and her passion for health! Thank you Amy!!!"

Shawna *Google Review

Nutrition Services Highlands Ranch CO | Highlands Family Chiropractic | (303) 779-7933