Non-Surgical Spinal Decompression
in Highlands Ranch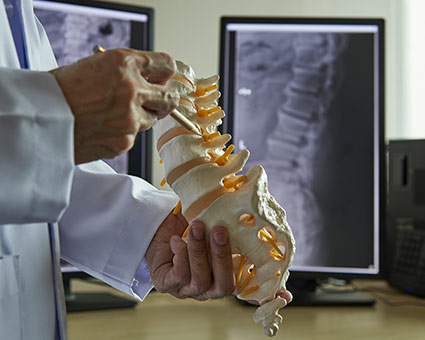 Non-Surgical Spinal Decompression (NSSD) is a safe, painless and non-invasive treatment to help patients with bulging or herniated discs, degenerative disc disease, and facet syndrome. NSSD can also alleviate symptoms of neck pain, chronic low back pain, and sciatica.
How Does It Work?
During each session at Highlands Family Chiropractic, you will be fitted with a pelvic harness to assist in the decompression process, and asked to lie down on the table. Using a specialized pulling mechanism attached to a table, NSSD applies a pulling force, then relaxes a little bit and then pulls again. This cycle is repeated during each session.
Try to visualize an accordion being played. With NSSD, it does that same motion, but to a disc, and of course at a much more anatomically appropriate level. The motion pumps the disc to free up the nerve roots of the low back.
The therapy is appropriate for most people. Dr. Hicks will ensure there are no contraindications.
What Are Some Benefits?
With NSSD, you may experience the following:
Overall reduction in pain
Ability to return to daily activities
Relief after five or six treatments
A reduction in the size of the disc herniation
Being able to avoid surgery and drugs
What to Expect
At your first appointment Dr. Hicks will take a detailed history and some orthopedic and neurological testing. And in the presence of appropriate markers that indicate a need for radiology, we would likely be taking X-rays. If you're like some of our patients who arrive with those images or MRIs, those are sufficient unless the images are outdated. Dr. Hicks will use the images to identify the cause of your condition.
We're trying to not go after the symptom, but instead identify the cause, so we can eliminate it whenever possible, make it as permanent as possible.
A realistic treatment plan for most patients is between 12-24 sessions. The length of your care depends on how long the condition has been there and how severe the underlying cause is. The uniqueness of the person will dictate the need for frequency of treatment. "I often give the analogy of a gym. If the person is trying to lose 5 pounds, they can work out for a month and lose those 5 pounds. However, if they're trying to lose 50 pounds, then it will take longer," said Dr. Hicks. How far a person is from the "finish line" will dictate the number of treatments.
Frequently Asked Questions
No, usually patients get so much relief from the therapy that they often don't want it to end!
What is the difference between traction and decompression?
Traction is static—meaning it just pulls and relaxes repeatedly. The decompression has a rest phase, so it pulls for a minute and 15 seconds, and then it relaxes for 15 seconds. Then it pulls again and then relaxes again. This process repeats the entire time a patient is on the table, which is usually 15-20 minutes.
Do you combine NSSD with other therapies?
Typically decompression will be coupled with some form of PT or physical rehab. We will also adjust patients on those visits as well, depending on their unique circumstances.
Is there anyone who can't have the therapy?
Most people can except for pregnant women and those with metal hardware in the area of treatment.
Book an Appointment
Discover how NSSD may help you. Contact Highlands Family Chiropractic today to schedule an appointment!
CONTACT US »

Non-Surgical Spinal Decompression Highlands Ranch CO | Highlands Family Chiropractic
(303) 779-7933