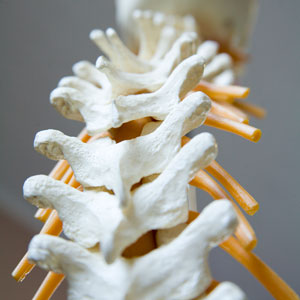 Your spine is one of the most important parts of your body, acting as the main information highway for your central nervous system while literally providing a backbone for your body's support system. Many things regarding your health are predicated on healthy and proper spinal alignment. That makes the vertebrae and discs that comprise your spine equally important.
What Do Our Discs Do?
Your discs are your body's natural spring. Keeping them healthy not only keeps us upright, but can also keep our nervous system communicating – which helps everything from our circulation to our immune system health.
How to Promote Proper Disc Health
One of the easiest things we can do to keep our intervertebral discs healthy is to remain hydrated. These discs are comprised of 90 percent water, so drinking plenty of water – aim for 64 ounces per day, at least – will help maintain proper disc health. As we get older, these discs can degenerate as they tend to lose water, making it imperative we continue to drink enough water.
Maintaining proper spinal adjustment is also important. These discs need more than just hydration for proper health, as they also need movement. The disc gets nutrition through the surface that comes into contact with the vertebrae.
When those bones move, it helps push those nutrients into the disc. Staying active is important, but it's also vital that the spinal column remains in its proper shape.
For more information on how to remain properly adjusted and on how to keep your discs healthy, contact us at Highlands Family Chiropractic today.