Meet Dr. Charlotte Hogenson
Experiencing the Effects of Chiropractic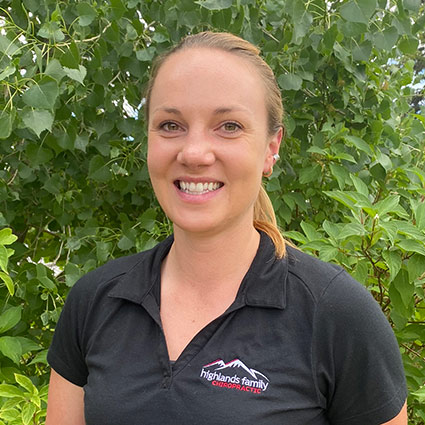 Dr. Charlotte had suffered from debilitating back pain for years, and at 20, was handed a bottle of pills for her discomfort. She was told she'd have to take the medication for the rest of her life. Not wanting to go that route, Dr. Charlotte asked if there was another way. After being told she could try PT, she did, but it didn't help her. Deciding to try chiropractic, she experienced pain relief after getting adjusted.
Because of the care she received, Dr. Charlotte was able to play soccer again, something that's very important to her. "Before I got chiropractic care, people told me I'd have to quit soccer." Thanks to chiropractic care, Dr. Charlotte proved those naysayers wrong and was even able to elevate her game, playing in the Women's Premier Soccer League.
The Path to Becoming a Chiropractor
Before considering chiropractic as a career, Dr. Charlotte had worked in PT offices and originally thought she'd become a physical therapist. One day, Dr. Charlotte saw Dr. Hicks' online job posting for a Chiropractic Assistant. "After I started working with him in 2016, I learned what chiropractic is and how effectively it could help people."
For Dr. Charlotte, chiropractic was a very different approach to health care that she hadn't seen before. Her work at Highlands Family Chiropractic solidified her decision to go to chiropractic college.
Helping Patients Get Back to What They Love
Because of her experience, Dr. Charlotte can relate to many of her patients. She understands how pain can negatively impact one's quality of life. "I love to be part of each patient's journey and help them get back their quality of life and return to what they love to do." She enjoys working with all types of patients and has a particular interest in helping high school and collegiate athletes.
Education, Certifications & Experience
Dr. Charlotte earned her bachelor's at the University of Colorado, Boulder, and then received a Doctor of Chiropractic from Life Chiropractic College West, graduating Summa Cum Laude. She also possesses the following:
Certification in Dry Needling
Certified Chiropractic Extremity Practitioner (CCEP) certification
Certification in Instrument Assisted Soft Tissue Mobilization (IASTM)
Dr. Charlotte also has an extensive sports medicine background and had an internship at CU Boulder for three years. She worked closely with the women's soccer team there, providing rehab for them.
Her other sports chiropractic experience includes working for the
AVP First Tour
in California. She also worked the Dew Tour at Copper Mountain in 2020, serving as a first responder for the athletes.
Outside the Practice
When she's not working, Dr. Charlotte loves playing soccer, checking out local microbreweries, and hanging out with her Rhodesian Ridgeback and fiance. She and her fiance love to hike and go backpacking in our beautiful state.
Book an Appointment
Take that first step toward getting out of pain and on the path to vibrant health. Contact us today to schedule an appointment!

Dr. Charlotte Hogenson | (303) 779-7933