Highlands Ranch Auto Injury Treatment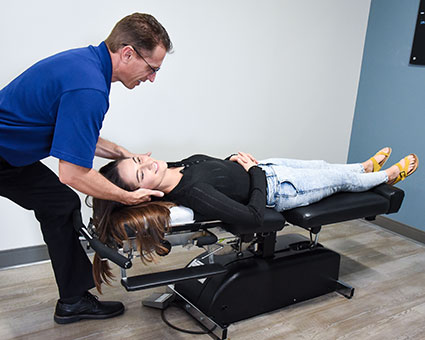 A car accident can negatively impact your life, health and well-being. Whether it be a fender bender or something more serious, there will likely be a disruption to your daily living. After the recovery from the immediate injury, there are often less obvious injuries that may disrupt your overall health.
Your Experienced Chiropractor
With over a decade of experience offering auto accident and personal injury care to area residents, Dr. Hicks has the knowledge and experience to get you back to doing the things you enjoy. He undergoes extensive and continuing education to learn more about providing a comprehensive diagnosis and appropriate treatment for injuries.
Dr. Hicks is nationally certified and registered to provide DOT physical exams for Commercial Driver's License (CDL) drivers. With comprehensive knowledge of the regulations and rules involved, we'll get you in and out of the office quickly. Click here for more information about necessary documents or clearance prior to your appointment.
If you've been in an auto accident, we will ask you to bring in all of the paperwork and any images or reports. When you call for your appointment, we'll give you a list of what to bring in.
When you come in, you'll be asked to fill out a patient information form. The purpose of the form is to get as much information as possible about your symptoms. Then, Dr. Hicks will meet with you and ask you about your symptoms and details of the accident.
He then will examine you to see if your particular injury will respond well to chiropractic care. This exam may test the following: range of motion, muscle tone and muscle strength testing. We may recommend X-rays or MRIs. If you've already had these tests, please bring the results with you.
Based on the results, Dr. Hicks will create a personalized chiropractic treatment plan that best addresses your injury. You'll be informed about how many sessions you'll need to get better and the frequency of visits.
Please allow an hour or more for this appointment.
Why do I have pain in my arms and hands?

Because the nerves to the arms and hands exit the spine through the injured area of the neck, numbness and tingling are common. Even lower back pain can result directly from the trauma, or as a reaction to the loss of proper spinal curves.
Why did my headaches start more than a week after my accident?

Whether you've been in an accident, stressed at work or over-exerted yourself in the garden, your body is constantly adapting to the environment. When your capacity to adapt is exhausted, symptoms can appear. This can take days, weeks, months or years to occur.
Will I ever feel normal again?

Many chiropractic patients report improved spinal function and a reduction of their symptoms. Those who delay seeking appropriate care often discover that scar tissue and long-standing spinal instability increases the recovery period.

Auto Injury Treatment Highlands Ranch CO | Highlands Family Chiropractic
(303) 779-7933